The Village of Midway has all the amenities of a big city but with the quaintness of a small town. The pharmacy, grocery store, hardware store, coffee shop, post office, and gas station & convenience store are all within walking distance of the Village.
Health Services
Boundary Pharmacy – 250-449-2866
612 Sixth Ave (in the Midway Library building)
Midway Medical Clinic – 250-449-2218
Midway Public Health Unit – 250-449-2887
Boundary Family Centre – 250-449-2215
Senior Services
Parkview Manor – 250-449-2842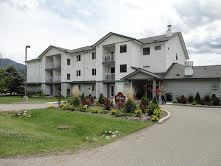 A Supportive Housing Complex for Seniors which is owned and operated by the West Boundary Senior Housing Society. More information, including frequently asked questions, can be found in the  Parkview Manor Brochure
Emergency Services
Midway Fire Department – 250-449-2206
Fire Chief Michael Daloise
Midway RCMP – 250-449-2244
Sgt. Phil Peters
Ambulance – 250-449-2323
Mark Danyluk
Churches and Places of Worship
Boundary Community Church – 250-449-1439
943 Thirteenth Ave.
King of Kings New Testament Church & Academy – 250-449-2252
735 Ninth Ave.
Internet Access
Midway Public Library – 250-449-2620
ShawGo WiFi is available at various locations throughout the Village for Shaw account holders.
ATM
The Spot – 250-449-2345
McMynn's AG Foods – 250-449-2242
Customs and Border Crossing
Midway, BC Canada/Ferry WA, USA
Hours: 9:00 am to 5:00 pm daily
Landfills
Rock Creek Landfill: Monday/Thursday/Saturday/ 10am – 3pm and Sunday 10am-5pm
Greenwood Landfill: Tuesday & Friday 10am-4pm and Saturday 9am-4pm